AUTHOR'S NOTES
If you need to contact the Webmaster: TheAgeofDesolation@hotmail.com.

G. A. Stewart has had a great deal of experience pointing out hypocrisy. He completely understands the futility of pointing out the obvious, but he understands that some people do get it. Killing bad… stealing bad… not living up to your words bad…

Nostradamus' writings have been an enduring riddle, sometimes the answers take you to places you do not want to go.

The simple fact is, when you write that the first black President of the United States is Nostradamus' Black King and his Third Antichrist, it is downhill from there.

Barack Obama's Presidency was worse than his predecessor, George W. Bush. Never mind Barack Obama's record of extra-judicial drone killings of Americans, never mind that he saw nothing wrong with spying upon innocent Americans, never mind the endless wars and the broken promises; by initiating The Arab Spring, Barack Obama and Hillary Clinton destroyed the Middle East and North Africa. They created the refugee crisis in Europe.

Barack Obama, and Hillary Clinton's State Department are also responsible for the Ukrainian coup d'état that has brought NATO and Russia closer to war than they have ever been. These are just the facts of history.

In his seminal 1961 book, The Life and Literature of Nostradamus, Edgar Leoni first suggested that the interpretation of the French word, Noir, Black, when used as a noun and subject in a poem, could be interpreted as, Roi Noir, because inside Noir is the anagram Roi, King.

Hence, Noir becomes Roi Noir, Black King.

In my December 2008 Website Introduction, I suggested that President-Elect Barack Obama might be Nostradamus' Black King. I was still doubtful because the Bush-Clinton Criminal Families are the two ruling political dynasties in the United States.

I am not the first to make this observation about Nostradamus' Black King. Barack Obama's important historical legacy is not over, so of course it would show up in Nostradamus' prophecies.

Other well-known Nostradamus Commentators have used Leoni's work and failed to give The Black King citation to Leoni.

2017 turned out to be an insanely fascist year for political correctness, replete with violence and threats of violence from anarchists oblivious to the facts in the news or the facts of history.

It will be a dangerous, bloody, and violent era. It will be the era of no debate or compromise.

Fake moral outrage is impossible to debate. It is a script that people are happy to read from, and Facebook and Twitter make it fashionable. I have seen a fair part of the world. The One Percent are selling diversity at the expense of individuality and uniqueness.

Life and the world are a tasty buffet, they seek to make the world a Factory Gruel. Celebrate diversity by being different.

BARACK OBAMA
IS COMING BACK
Nostradamus Epistle: Paragraph 55:1

Nostradamus Epistle: Paragraph 55:1
After that the antichrist will be the infernal prince, again for the last time…


Nostradamus Epistle: Paragraph 55:1
…All the Kingdoms of Christianity, and even of the infidels, will tremble for the space of twenty-five years…

NOSTRADAMUS' BLACK KING

Nostradamus Quatrain X-71
La terre & l'air geleront si grand eau,
Lors qu'on viendra pour ieudy venerer,
Ce qui sera jamais ne fut si beau,
Des quatre parts le viendront honorer.

Nostradamus Quatrain X-71
The earth and air will freeze a great [jet] stream,
When they will come to venerate Thursday [Thursday, December 10, 2009],
He who is not at all is not so nice [peaceful],
From the four parts [of the world] they will come to honor him.

Barack Obama's unwarranted Nobel Peace Prize is written into two important Nostradamus' Quatrains.
SAMAROBRYN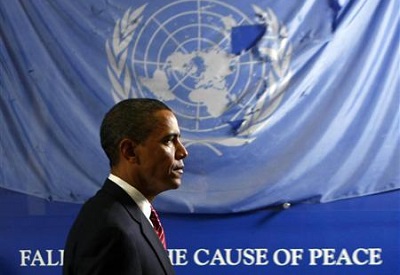 SAMAROBRYN
ANAGRAM: OBAMA S ROI NOIR
FORMER PRESIDENT OF THE UNITED STATES

Nostradamus Quatrain VI-5
Si grand famine par vnde pestifere,
Par pluye longue le log du polle arctique:
Samarobryn cent lieux de l'hemispere,
Viuront sans loy, exempt de politique.

Nostradamus Quatrain VI-5
So great a famine by a pestilent wave,
By rain extending the length of the Arctic Pole:
Samarobryn one hundred leagues [135 miles] from the hemisphere,
Living without law exempt from politics.

OBAMA EASILY EXTRACTED FROM SAMAROBRYN
LEAVING OBAMA S RRYN
OBAMA S ROIN

OBAMA S NOIR
EXTRACT ROI FROM THE ANAGRAM NOIR

OBAMA S ROI NOIR
OBAMA S BLACK KING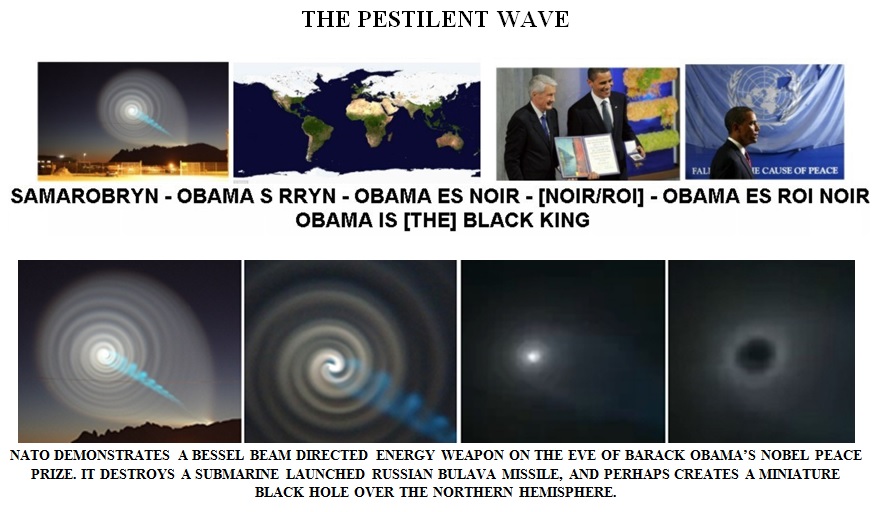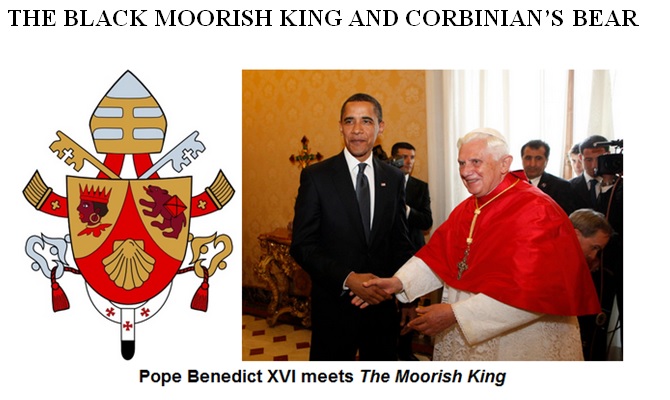 THE GREAT DECEPTION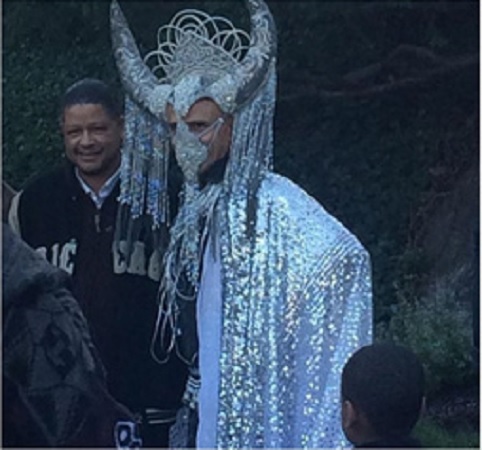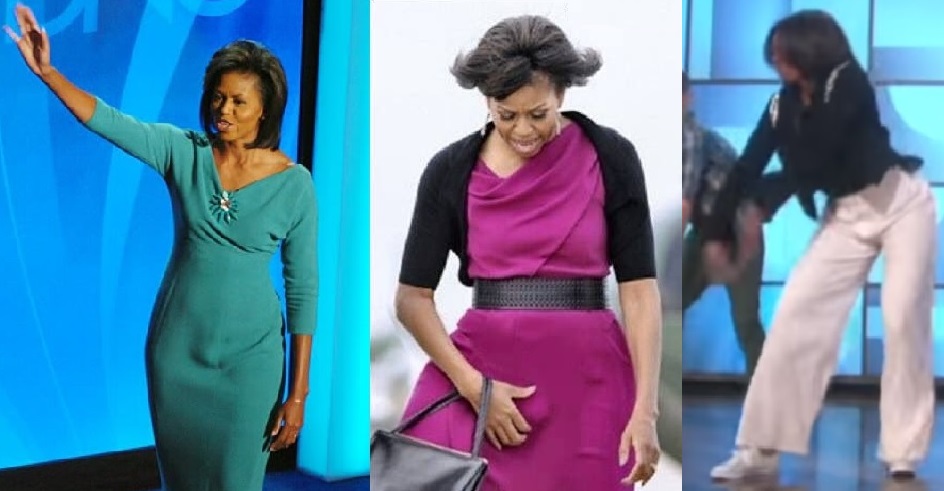 Two of the most influential people of the 21st Century appear to be in disguise.

THE SKY WEEPS FOR THE ANDROGYNE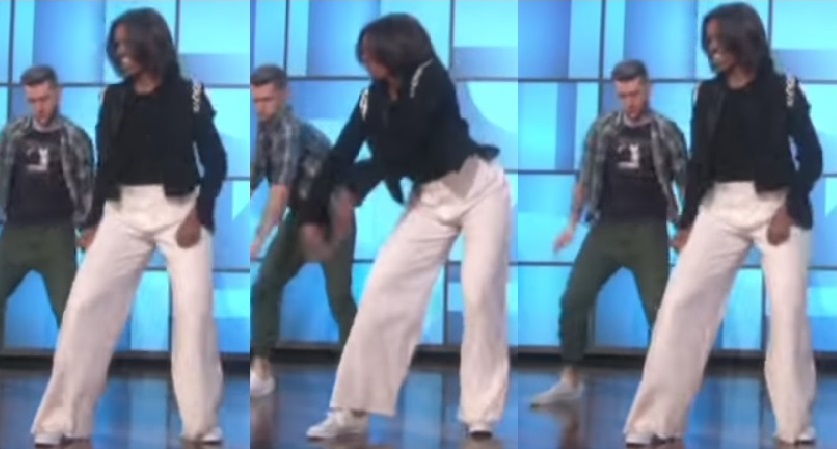 Nostradamus Quatrain II-45
Trop le ciel pleure l'androgin procreé,
Pres de ce ciel sang humain respandu,
Par mort trop tarde grand peuple recreé
Tard & tost vient le secours attendu.

Nostradamus Quatrain II-45
Too much the sky weeps for the Androgyne created,
Near the heavens human blood shed,
By death too late a great people re-created
Late and soon the awaited relief comes.

Michelle Obama be careful of getting on airplanes; I suspect that they will not allow your secret to be revealed. "Near the heavens human blood shed", "Too much the sky weeps for the Androgyne created", "By death too late a great people re-created.

If Michelle Obama is transgender, that discovery would destroy Nostradamus' Pagan Sect of New Infidels. This Quatrain points to a fatal airplane crash in a storm.

OUR SHARED REALITY - FACT 1
OUR SHARED REALITY - FACT 2
OUR SHARED REALITY - FACT 3
OUR SHARED REALITY - FACT 4
THE ANTICHRIST
NUCLEAR WAR


Nostradamus Quatrain III-59
Barbare empire par le tiers vsurpé
La plus grad de son sang metra à mort:
Par mort senile par luy le quart frapé,
Par peur que sang par le sang ne soit mort.

Nostradamus Quatrain III-59
Barbarian [Islamic] Empire usurped by the third [Antichrist]
The greater part of his blood being put to death:
By senility [madness] death through him a fourth [USA/NATO] smitten,
By fear that blood for blood is acceptable death.

THE YOUNG BLACK KING



Nostradamus Quatrain III-60
Par toute Asie grande proscription,
Mesme en Mysie, Lysie, & Pamphylie:
Sang versera par absolution,
D'un ieune noir rempli de felonnie.

Nostradamus Quatrain III-60
Throughout all Asia great proscription,
Even in Mysia (NW, Turkey), Lycia (SW Turkey), and Pamphylia (SW Turkey):
Bloodshed through absolution,
Of a young Black [King] filled with felony.

NATO ATTACKS IRAQ AND SYRIA

Nostradamus Quatrain III-61
La grande bande & secte crucigere,
Se dressera en Mesopotamie:
Du proche fleuue compagnie legere,
Que telle loy tiendra pour ennemie.

Nostradamus Quatrain III-61
The great band and sect of crusaders,
Drawn up in Mesopotamia [Iraq and Syria]:
Near the river [Euphrates] a light company,
That holds such law an enemy.

THE THIRD ANTICHRIST COMES FROM ASIA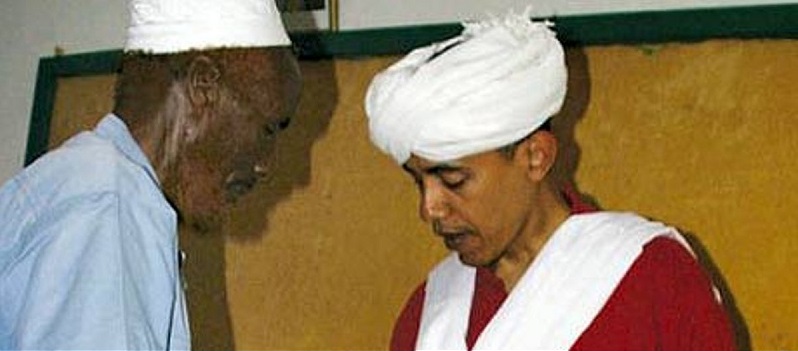 Nostradamus Quatrain X-75
Tant attendu ne reuiendra iamais,
Dedans l'Europe, en Asie apparoistra:
Vn de la ligue yssu du grand Hermés,
Et sur tous Roys des Orients croistra.

Nostradamus Quatrain X-75
Long expected he will never return,
Inside Europe in Asia emerging:
One issued from the league of great Hermes.
And over all the Kings of the Orient he will grow.

THE SENATE ORDAINS THE TRIUMPH


Nostradamus Quatrain X-76
Le grand Senat decornera la pompe,
A l'un qu'aprés sera vaincu, chasses,
Des adherans feront à son de trompe,
Biens publiez. ennemis dechassez.

Nostradamus Quatrain X-76
The great Senate will ordain the triumph,
For one who afterwards will be vanquished, driven out,
His adherents prepare at the sound of [Trump],
Public property, enemies expelled.

THE GENERALS ARE BANISHED THE FLEET SUNK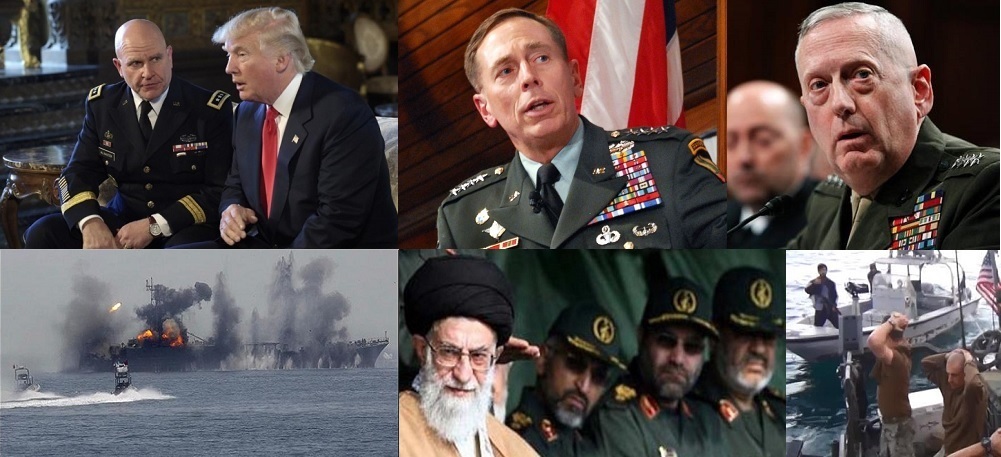 Nostradamus Quatrain X-77
Trente adherans de l'ordre des quirettes,
Bannis, leurs biens donnez ses aduersaires:
Tous leurs bienfaits seront pour demerites,
Classe espargie deliurez aux corsaires.

Nostradamus Quatrain X-77
Thirty adherents of the order of quirites,
Banished, their property given to adversaries:
All their benefits seen as misdeeds,
The fleet sunk, delivered to the corsairs.

This website and the books, The Age of Desolation, Nostradamus and The Age of Desolation, and Nostradamus and The Third Age of Mars are copyrights of G. A. Stewart © 2007-2022. All Rights Reserved.
Copyrighted material on this website is cited when possible and for Fair Use in criticism and for public information purposes only.
Contact: TheAgeofDesolation@hotmail.com